YouTube ads workshop by Tom Breeze
Instant Download Guaranteed:
The course is 100% completed and updated (includes ALL videos, pdfs, files, screenshots, everything); YouImmediately get a link to download the course after you pay.
Read the FAQ for more info.
Sales Page:
https://web.archive.org/web/20191026143226/https://www.viewability.co.uk/YTadsworkshop-sales?r_done=1

Screenshots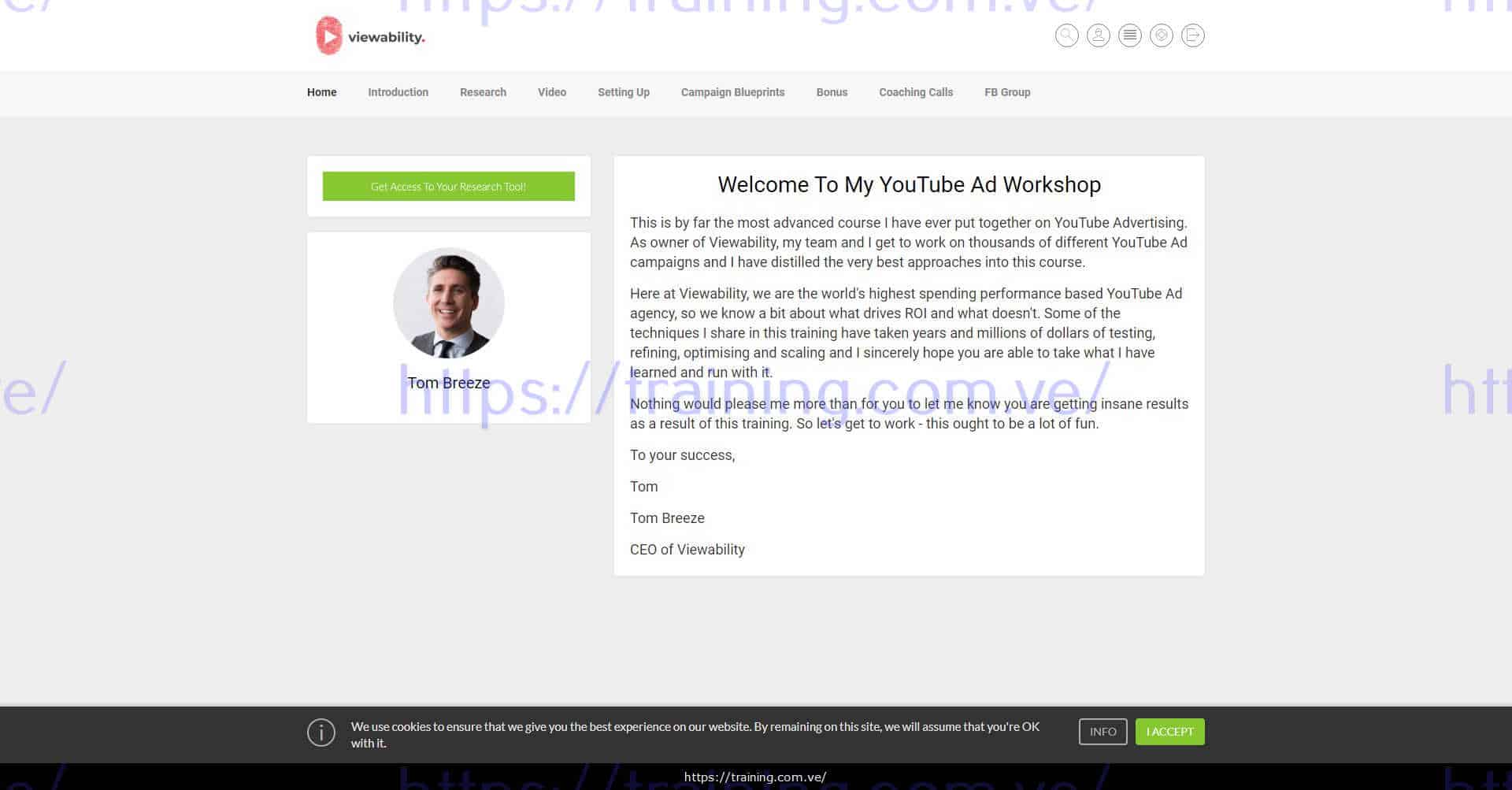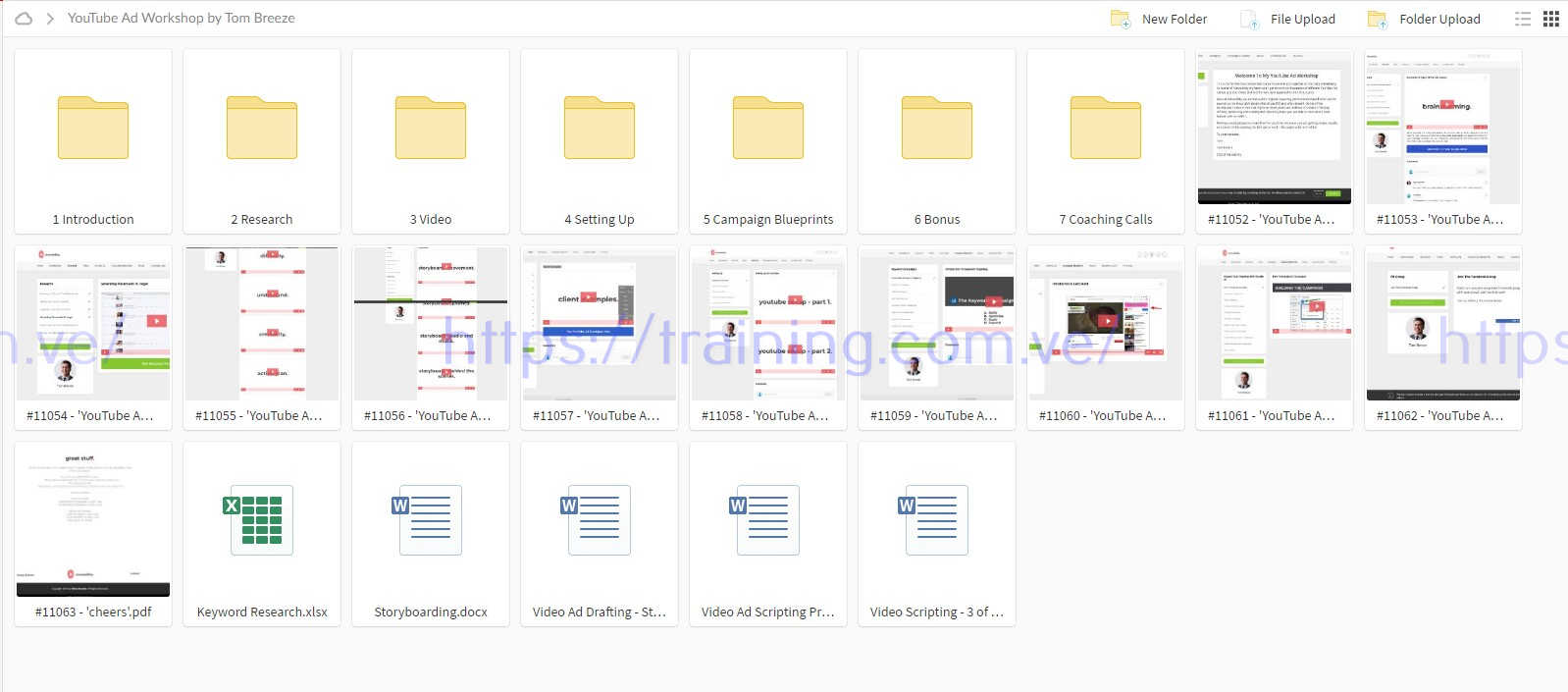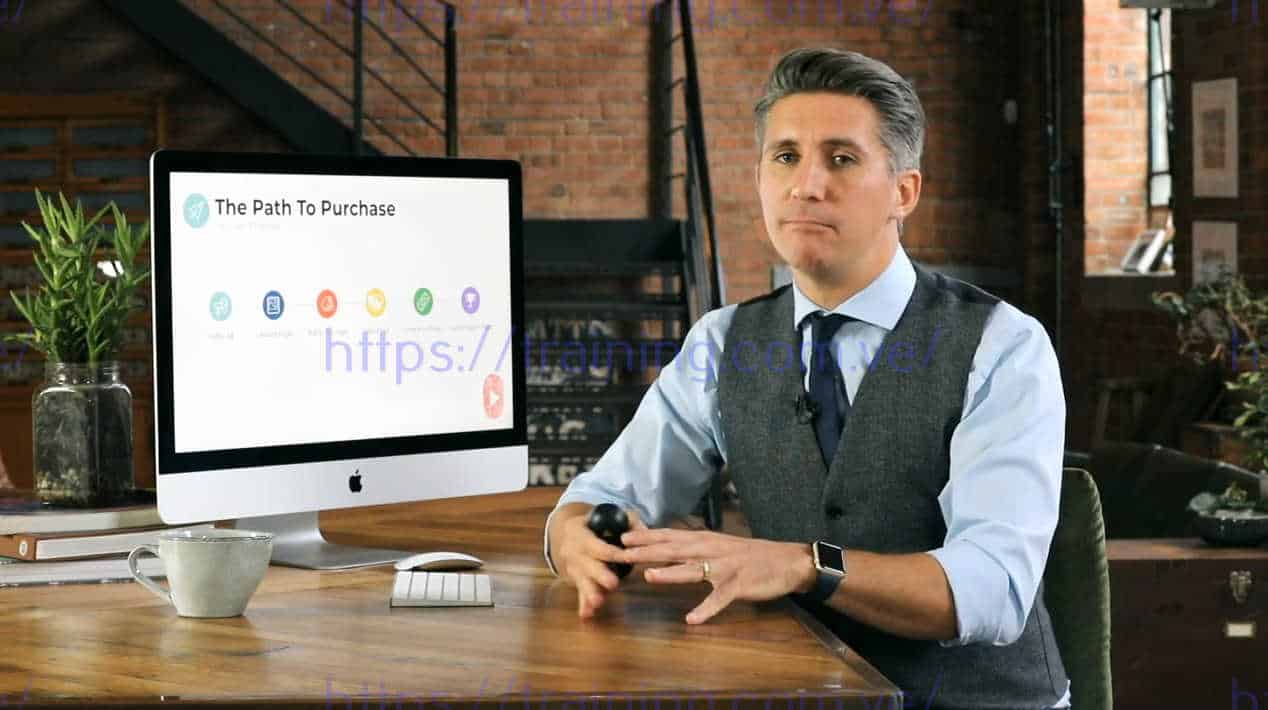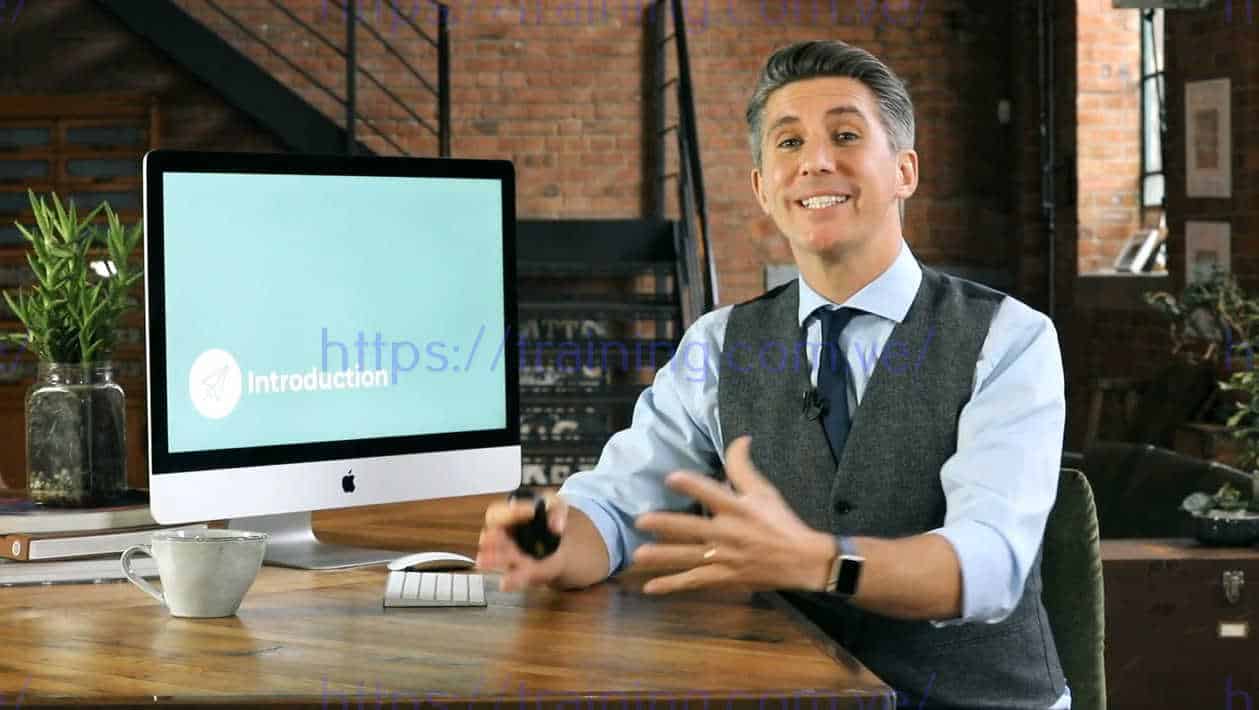 Sales Page Text
INTRODUCING VIEWABILITY'S…YouTube ads workshop.For a limited time, your investment will include a free 'edit credit' where our creative team will edit your YouTube video ad for you!why this training.If I am completely honest with you I am nervous about releasing this training. As an agency, specialising in YouTube advertising, it's taken us years and millions of dollars worth of testing and refining to understand what works best when it comes to running successful campaigns.So why tell the world our secrets? Why don't we just keep them to ourselves?Well, there are 2 reasons.Firstly, I want to be able to help more people. In the agency, we are limited to how many businesses we can help. Some business might not want to work with an agency or perhaps there might not be a great agency fit, but a training course could be ideal for them.Secondly, YouTube advertising is going through a HUGE growth stage and lots of businesses want to understand how to make it work for them. There are some great video trainings and some great advertising courses, but nothing that integrates the video creative and the advertising. Working inside the YouTube advertising space all day everyday gives me a unique perspective and experience and I want to share that so you too can get incredible results from YouTube.At the end of the day I want Viewability to become the "home" of YouTube advertising. Your results and my reputation are incredibly important to me so every aspect of this course has been carefully designed to help you get started in the right way that generates real world results.why us.It's a fair question – why should you learn from me?First of all, this training is not based on 1 or 2 successful campaigns or 'theory'. Here at Viewability, we are agency that exclusively run YouTube ads for our clients and we have run 1000's of successful campaigns for international clients in many different industries. On top of that, our agency is results based. We fund our clients' advertising and they pay us on a cost per lead or sale model. Therefore, we would be out of business if we didn't know what we were doing. We know what we are doing.And here's why you know this training will be all it's cracked up to be… I have a very healthy dose of anxiety about releasing this training because my reputation depends on it. As such, you'll know that everything in this course has been meticulously planned out and developed in such a way that you'll love the content, find it easy to understand and it will be simple to implement. It's taken several months to put together to a standard I am happy with because I genuinely care about your results. It's my best and most comprehensive training to date.what you get.The training is made up of educational videos, supported by bespoke tools and includes access to an exclusive facebook group. This is to ensure you have everything you need to get the very best from your YouTube advertising campaigns. Let's cover everything in more detail below.IntroductionIn this section of the training, it's all about understanding the foundations of highly profitable YouTube ad campaigns. When you know why your customers are going to YouTube and what they are looking for, you can be far more effective in your video and campaign creation.YouTube is a very different platform to all other ad networks and when you are clear with the strategy, results follow.ResearchOnce you have gained clarity on your strategy, it's time to find your customers. We'll find out where your customers are going, what they're looking for and how to get in front of them. Now, this is normally tedious, soul destroying work but we're giving you access to our tools we developed for our agency to speed this whole process up and make your life so much easier.VideoBy this point, you'll have a clear strategy, know where your customers are going and what they want. This makes effective video creation far easier to get right. We'll break down every single step, from scripting to editing, so you know how to create high converting YouTube ads without having to a be a video production expert.I'll also be giving you access to a ton of video examples to give you inspiration.Setting UpOkay, this is the geeky part. Building your YouTube, Google ad, Analytics and Google Tag Manager accounts and then linking them together. If that last sentence filled you with absolute dread, I totally get it – we go through these steps nice and slow. It's important you know how and why we take every single step so you can track what's happening when you're running your ads.Campaign BlueprintsThis is the point where you start building out your profit driving campaigns. You're clear on strategy, you know who you're getting in front of, you've crafted the perfect video ads and everything is set up for success. There are so many ways of building out campaigns and a lot of mistakes can be made, so I'll guide you through where to get started, how to optimise and then scale. Just think, very soon you'll be driving traffic, leads, sales and profit.BonusI have had the pleasure of working with, consulting with and interviewing some of the best marketing minds in the business. You will be to see how people such as Frank Kern, Russell Brunson, Gideon Shalwick, Oli Billson and many more are using ads to grow their businesses as well as watch keynote presentations I have given all over the world.ToolsThere are some essential tasks that can be mind-numbing and repetitive. As such, we have developed tools that speed up the whole process. These tools do not exist anywhere else but we've made them available to you as part of the YouTube Ads Workshop. Facebook Community ForumIt's great to be a part of a group that can help you ask questions, discuss strategy and so much more.how long does it take?There are 9 hours of video content in the training and if you include the work it takes to create the videos, you'll probably be live within 10 working days. That said, some people have been through the course and are up live with their ads within 48 hours, but that is impressive work!what they say.With YouTube ads it's so reliable and regular. Tony Polecastro and Levi KujalaTony's Acoustic ChallengeThis is the perfect time to advertise on YouTube and Tom (CEO of Viewability) is THE YouTube ads guy.Frank KernFrankKern.comTheir methods and strategies simply work. I'm always recommending Tom and his team to my closest contacts.Neil PatelNeilPatel.comCompanies are only now waking up to the incredible power of YouTube ads. Listen to Tom & his team, because it works.Ryan DeissDigitalMarketer.comTom & his team are the world's best when it comes to YouTube ads to drive sales at a huge profit. Work with these guys. James SchramkoSuperFastBusiness.comThis is the best return I've ever had on advertising!Anthony Van DortFlexifoil KitesFor every dollar I put in, I'm getting 3 dollars out.Frank KernFrank Kern INCwhy now?For a limited time we are including a free "Edit Credit" meaning that when you invest in the training today we will edit your videos for you. All you need to do is record your videos, send them to us and we'll make them look amazing and ready for YouTube ad promotion. These are the same editors that work on our top agency client videos.who's it for & not for?The YouTube Ads Workshop is designed for those people that have an understanding of the advertising landscape and know that there will be some work involved. Please don't buy this course if you're looking for easy wins or have unrealistic goals.what you can expect.I am sure you're aware that there are no guarantees with advertising – we can't promise results. However, this course contains everything you need to know about advertising on YouTube and how to build highly profitable campaigns that can be scaled. We've been exclusively running YouTube ads, day in, day out over 6 years and the knowledge we have gained over that time is distilled into this training. If you have a great offer and a good audience you may just find that YouTube advertising becomes your best source of new customers!
Immediately after you paid:
1.- You will receive an email to get your download link
2.- This is an example of the text file you will get
3.- You copy and paste this link on your browser, and now you can download all the courses as a ZIP file.
FAQ Your Most Popular Questions, Answered:
FAQ Your Most Popular Questions, Answered:
How and when will I receive the product?
Immediately after the payment, you will get a Mega.nz link to download the product (like a google drive folder). The link will be sent to your email account immediately, and you can always get the link on your account history too.
Is the course complete, or is it just a demo version?
The course is 100% completed and updated (includes ALL videos, pdfs, files, screenshots, everything); after you pay, you get a link to download the course Immediately.
What is your refund policy?
We will send you a full refund if you don't get the complete course you ordered and we can't solve the problem in the following 24 hours. Please get in touch with us if you want a refund. Your refund request will be processed within 24 hours
How can I trust you?
We show screenshots from the course, give you a video sample, and show you the folder where you will get access to download the course; that is proof that we have the course.
Also, you don't need to trust us; you will be protected by PayPal buyer protection; if we don't send you the course, you can ask Paypal to give your money back
Which types of payment do you accept?
Paypal and Crypto coins
We've partnered with PayPal to handle billing and provide a secure socket layer, and 256-bit encryption. So in layman's terms: Your credit card is secure.
Card information is stored ONLY by Paypal secure server (We never have access to your payment information)
Is my personal information secure?
Yes.
All registration information is automatically encrypted and anonymous, so it's safe.
We don't even use your name on our testimonials.
You can even use fake info; we don't need your real name. We understand you want to protect your privacy.
What if my product has problems?
If your course has a problem, please send us a screenshot and tell us the problem. Then, we will solve the problem.
We will send a full refund when the problem can't be resolved.
Can I ​Request courses I found somewhere?
Yes, send the information from the course you want to our chat or email at [email protected]
​Are all of the ​courses available straight away, or is it time-released (drip fed)?
You get all the content immediately; You don't have to wait.
How can I get support from you?
We are confident provide for all of you an excellent service. If you have any problems, please contact us via Live chat. If we are not online, send us an email at [email protected] We will solve the problem quickly as possible!
What is NOT included?
Facebook Group Access
Support from the course creators
Mastermind or calls.
Do I need to purchase anything else once I get this course?
NO, you don't need to get a premium subscription or download torrent software.
How long do I have access to the course?
Forever. You bought the course, and you own it for life. Access it anytime you want. You'll also get all the course updates and new lessons for FREE forever.
Is my credit card secure?
Yes. We've partnered with PayPal to handle billing and provide a secure socket layer, and 256-bit encryption. So in layman's terms: Your credit card is secure.
Card information is stored ONLY by Paypal secure server (We never have access to your payment information)
YOU CAN BE 100% SURE YOU WILL GET THE COURSE.
You don't even need to trust Us. The Paypal Buyer Protection Policy will protect you.