Online Persuasion Mastery by Bushra Azhar
Instant Download Guaranteed:
The course is 100% completed and updated (includes ALL videos, pdfs, files, screenshots, everything); YouImmediately get a link to download the course after you pay.
Read the FAQ for more info.
Sales Page:
https://web.archive.org/web/20190404153610/http://onlinepersuasionmastery.com/

Screenshots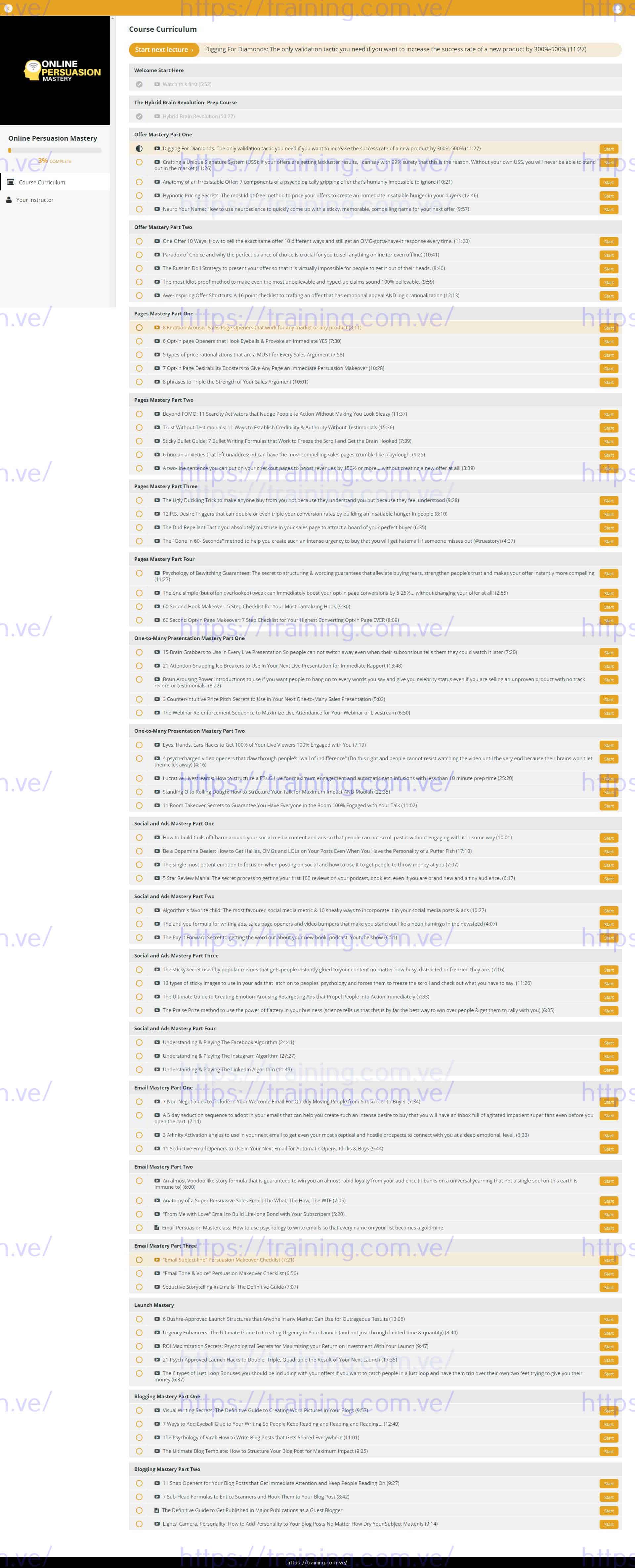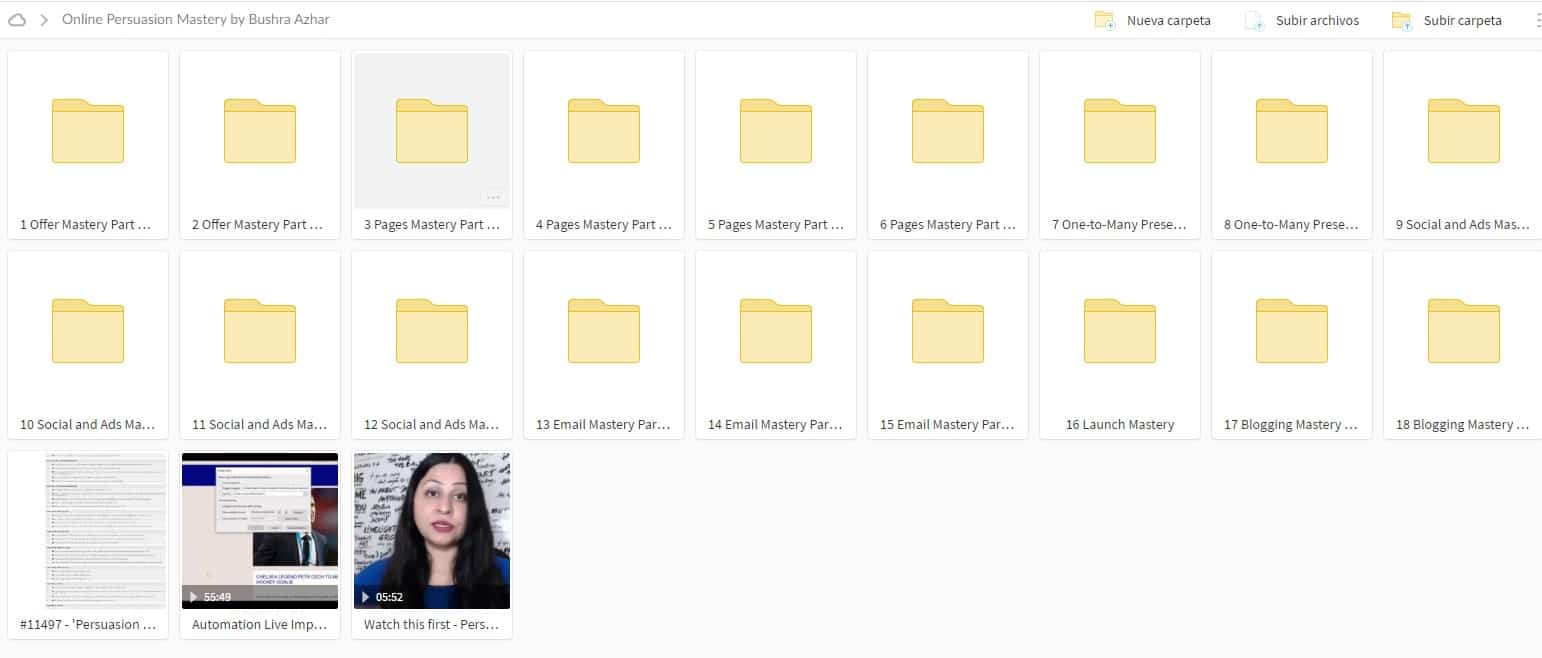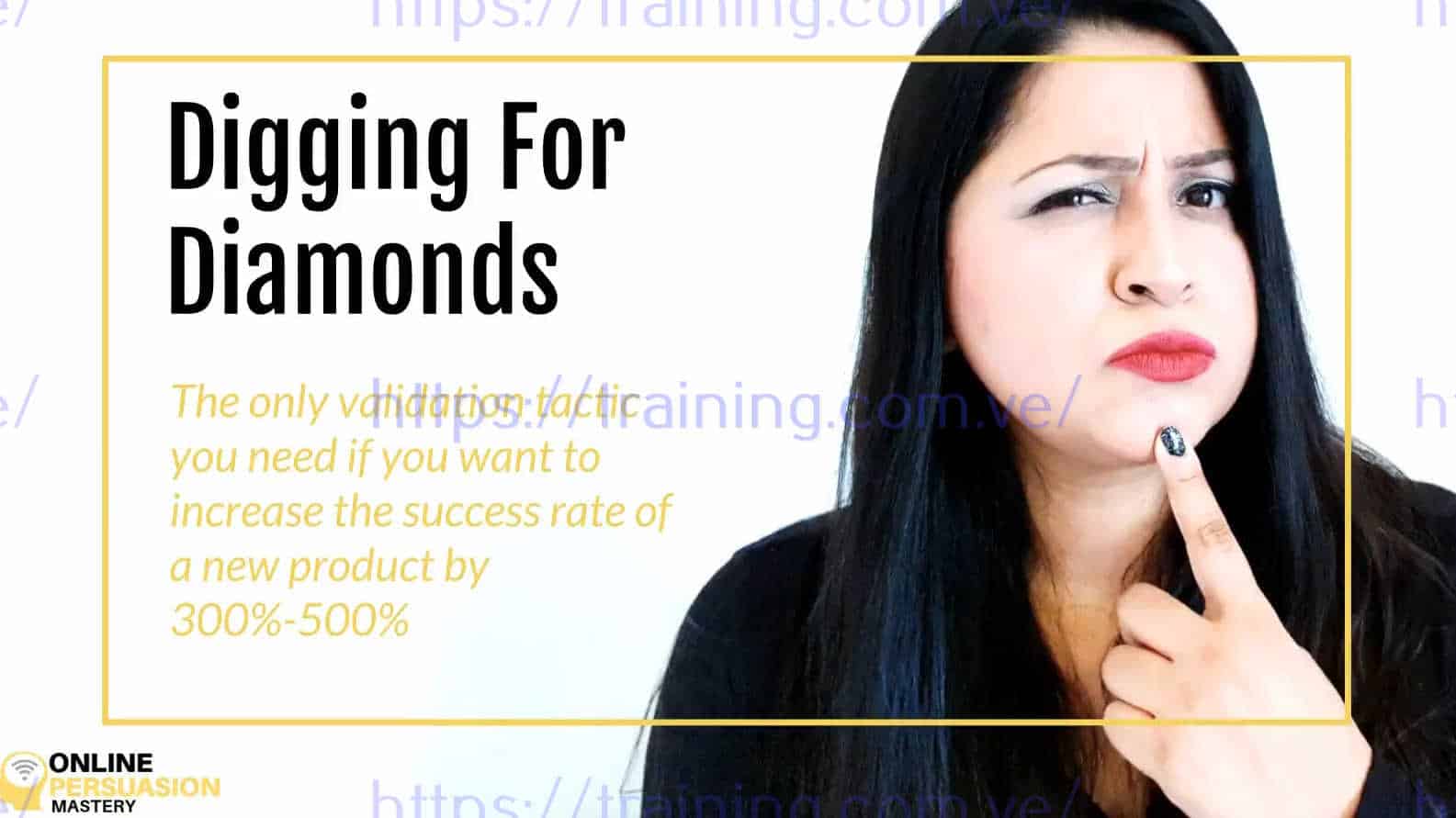 Sales Page Text
Life-altering Question for Online Experts, Course Creators, Coaches and Online Business Owners Who STILL Don't Know How to Get an Effortless Impulsive YES OnlineIf there was a science-backed, psych-approved system of becoming a persuasion powerhouse so you can double, triple, quadruple your sales, conversions, and impact within 24 hoursWould you finally take the leap from the unexciting adventures of no-salehood to being a master persuader who gets a YES, ducks a NO and never settles for a MAYBE?If your answer is HELL YES, read on…I have condensed 1000+ gigabytes of persuasion wisdom, consumer behavior research and social psychology studies into a single database of 1o-minutes-or-less cheat codes that can take you from persuasion-noob to master persuader in less time than it takes to google your most annoying persuasion dilemma.If you can sit still for 10 minutes & possess enough tech savvy to click a button to play a video, you can go through the cheat code and then immediately use it in your emails, social media, webinars, sales pages, websites, videos, podcasts, interviews.. to double, triple even quadruple your sales, conversions, and engagement.While cutting your active work time in half and eliminating the sheer misery of waking up to the loud chirping sound of crickets.…Because these cheat codes are based not on mere opinions but on solid science and research on how to get a yes, as well as literally thousands of data points humans feed into the Lord Master of the Internet every single day…Because these cheat codes will help you become a master of persuasion in anything you do online; video, audio, blogging, funnels, livestreams, ads, podcasting….you name it.…Because these cheat codes are the best nuggets of persuasion wisdom I have gleaned from almost 10 years of relentless study on how to break through people's indifference on the internet and profit hugely…Because these cheat codes are shortcuts to whatever you want in life—money, fame, status and the freedom to do whatever the fark you want, all of which can be yours once you know how to persuade others to do what you ask.. . .Because these cheat codes trigger an automatic and favorable response in the human brain the internet—but more importantly in all the algorithms on the internet. . .Because these cheat codes expertly hypnotize the skeptical part of people's' brains, seducing them into deciding in your favor often with little or no doubts, even if they have never heard of you before.. . .Because you can use these cheat codes any time you want to persuade almost anyone to do almost anything on the internet. Use it with customers, subscribers, fans, followers, employees, bosses, influencers, jury members, stalkers, illicit lovers, offsprings—anyone you wish to persuade in the fastest, most painless manner.. . .Because if you are doing anything on the internet, having these cheat codes in your back pocket gives you the advantage that will take you light years ahead of the unfortunate souls who don't have these.Feeling a Tremor of Excitement Run Through Your Body? If so, you are already coming under the spell of these cheat codes because I have already used at least 5 of them so far on this page and you probably didn't even notice. That's how these work—invisiblyIn 2019 and Beyond…Those who don't master the not-so-dark art of Online Persuasion will be left in the dust by those who do….those are what I call master persuaders.Let me remind you why I think your future hangs in the balance, why this is so vitally important NOW. FACT ONE: Almost 60% of internet users multiscreen routinely. On average three days a week & more than 80 minutes per day.FACT TWO: Only 14% of internet users remember the last ad they saw and only 2.8% thought it was relevantFACT THREE: Humans face 2,500 Marketing messages a day, they can only respond to TWO of them.FACT FOUR: You have ZERO control over what the Facebook, Instagram, Gmail, Google, Youtube algorithm show to your people.FACT FIVE: 2,784,068 emails are sent in 1 second and 78,073 YouTube videos are viewed in 1 second..that's just ONE SECOND.FACT SIX: 510 million blog posts have been written this year so far (and we are only getting started)FACT SEVEN: Most advice on persuasion is either too academic (gives you the science & the findings but not actual application) or out-dated (what worked 80 years ago DOES NOT work anymore, yes humans are the same but their consumption habits have changed)FACT EIGHT: The newest unscientific gimmick, the latest untested tactic, the currently trending invalid ploy your favorite online guru shared with you will stop working in a week.FACT NINE: Internet screen focus time is less than 40 secondsFACT TEN: Facebook is running out of ad space, Gmail is tightening spam filters for literally anything business related, Youtube is cracking down on small players and IG is hell-bent on mind-fucking its way to a new newsfeed every 3 weeks.THIS IS WHAT YOU ARE UP AGAINST. And it's going to get worse. Here's a brief timeline of the internet for your freaking-out pleasure2000- You could slap poo poo on a stick, give it a fancy name, spend some money in adwords and VIOLA, you had a business2005- You just had to beat the next guy (hardly any girls back then) or make a cross-promotional syndicate and have massive $5M in 60 minutes launches2010- The barrier to entry was still super low and the internet was being taken over by shitty shit muffins marketers & mediocre business owners whose only achievement was entering the market at the right time2015- It started getting crowded but still, all you needed was to do something, anything just slightly different and flashy and you'd get attention. (the era of effortless million dollar launches, the golden poop smear branding and Marie Forleo lookalikes)20Now- People are hyper-aware of marketing tactics and there's a growing fatigue around funnels, affiliates, coaching, and other generic bullshit. Buyers are looking for specialized expertise, customized experiences, and more human interactions. Doing what everyone else is doing is a kiss of death for internet businesses.2025- It's a whole new world with one rule: Only those who are master persuaders get to play.The rest take up jobs in companies still living in 2000'sWe live in very uncertain times. This is no time to be skating on such thin ice. This is no time to be playing around with untested ideas and untested leaders. This is the time to strengthen your persuasion prowess.Just Imagine How Much You'd Pay in Time, Money & Effort If You Had to Do Even a Small Part of This Yourself, From Scratch……STEP ONE: Borrow, beg, steal or swipe the following sources to help you get started- 300+ books on Influence, psychology, behavioral economics, neuromarketing, human decision making, and consumer behavior- In-depth analysis of social psychology heuristics and emotional triggers- Thousands of scientific studies detailing the relevant social psychology experiments- Articles & studies decoding the Google Algorithm so you play to its biases, triggers and hidden motivations- Articles & studies decoding the Youtube Algorithm so you play to its biases, triggers and hidden motivations- Articles & studies decoding the Linkedin Algorithm so you play to its biases, triggers and hidden motivations- Articles & studies decoding the Facebook Algorithm so you play to its biases, triggers and hidden motivations- Articles & studies decoding the Instagram Algorithm so you play to its biases, triggers and hidden motivations- Articles & studies decoding the Gmail Algorithm so you play to its biases, triggers and hidden motivations- Articles & studies decoding the iTunes Algorithm so you play to its biases, triggers and hidden motivationsSTEP TWO: Read through all the jargony text and take out a few potentially useful nuggetsSTEP THREE: Corroborate the validity of these nuggets from other sources to make sure it's not a pile of BS sprinkled with more cow shit.STEP FOUR: Summarize the information into a few paragraphs and map out a plan on exactly how to use these insights STEP FIVE: Turn the above into actionable steps that you can immediately put to use and start reaping benefits within minutes.Good luck with your quest, I will see you, a quarter of a century (and thousands of dollars) laterWith these Master Persuader Cheat Codes, in one daring stroke, you can blast through the learning curve, electrify your market, gain speedy momentum, wow your clients, trigger remarkable word-of-mouth, spark unignorable buzz, outmaneuver your competitors and bring forth a torrent of new clients. Hey, I am Bushra and I am a Persuasion StrategistSome call me Queen Bee of Online Persuasion, others call me a mad scientist when it comes to persuasion. What I REALLY am is someone who's obsessed with how the human brain works but also with how to use this information to get a YES online. I have worked with thousands of business owners and I take my clients from lost & frazzled to being intergalactic balls of awesome..all through the power of persuasion.My story & results are so atypical, you will be left clutching your heart in utter astonishment:Started my business in 2014 with no list, no connections, no team, no support and built a multi-million dollar business in less than 3 years without doing any of these:
- Hiring a coach
- Joining a mastermind
- Going to networking events
- Doing giant affiliate launches
- Selling affiliate launches
I have 7000+ paying clients (almost 20% of my list) which is mind-boggling given that the industry average is 1-2%My courses have a 70%+ success rate which is stupefying given that only 5-10% in a typical online course actually FINISH itManaged to use this business to feed+educate 2,000+ street children in India, Pakistan & Bangladesh.The Revolutionary New System to Outsmart the Algorithmic Brain, Outcharm the Emotional Brain and Outwit the Logical BrainThe Online Persuasion Mastery hinges on SEVEN Streams that serve as themes for the system. Each stream has cheat codes that address all aspects of that stream.Online Persuasion Mastery Stream One: Persuasive OffersIn this stream , I cover everything you need to keep in mind when creating offers for sale on the internet. How to structure the offers, how to price it, name it, how to address the typical mental farts people have around your offer. EVERYTHING.Here are the cheat codes covered under this stream.Digging For Diamonds: The only validation tactic you need if you want to increase the success rate of a new product by 300%-500%Crafting a Unique Signature System (USS): The number one neuro secret to setting your offer apart from everyone in your market with a signature frameworkAnatomy of an Irresistible Offer: 7 components of a psychologically gripping offer that's humanly impossible to ignoreHypnotic Pricing Secrets: The most idiot-free method to price your offers to create an immediate insatiable hunger in your buyers 'Neuro Your Name: How to use neuroscience to quickly come up with a sticky, memorable, compelling name for your next offerOne Offer 10 Ways: How to sell the exact same offer 10 different ways and still get an OMG-gotta-have-it response every time.Paradox of Choice and why the perfect balance of choice is crucial for you to sell anything online (or even offline)The Russian Doll Strategy to present your offer so that it is virtually impossible for people to get it out of their heads.The Most Idiot-proof Method to make even the most unbelievable and hyped-up claims sound 100% believable. Online Persuasion Mastery Stream Two: Persuasive PagesThis stream covers everything you need to be aware of when building any page on the internet. It covers everything from copy, paragraphing, word glue, guarantee wording, bullet-writing and desirability boosters. Here are the cheat codes covered under this stream.10 Emotion-Arouser Sales Page Openers that work for any market or any product10 Opt-in Page Openers that Hook Eyeballs & Provoke an Immediate YES5 Types of Price Rationaliztions that are a MUST for Every Sales Argument7 Opt-in Page Desirability Boosters to Give Any Page an Immediate Persuasion Makeover11 Phrases to Triple the Strength of Your Sales ArgumentBeyond FOMO: 11 Scarcity Activators that Nudge People to Action Without Making You Look SleazyInstant Authority Markers: The 10 Elements to Inject Instant Authority on Your Sales PageTrust Without Testimonials: 11 Ways to Establish Credibility & Authority Without TestimonialsSticky Bullet Guide: 7 Bullet Writing Formulas that Work to Freeze the Scroll and Get the Brain Hooked7 Human Anxieties that Left Unaddressed Can Have the Most Compelling Sales Pages Crumble like Playdough.A Two-line Sentence You Can Put on Your Checkout Pages to Boost Revenues by 150% or more… without creating a new offer at all!The Ugly Duckling Trick to make anyone buy from you not because they understand you but because they feel understood12 P.S. Desire Triggers that can double or even triple your conversion rates by building an insatiable hunger in peopleThe Dud Repellant Tactic you absolutely must use in your sales page to attract a hoard of your perfect buyerThe 'Gone in 60- Seconds' method to help you create such an intense urgency to buy that you will get hatemail if someone misses out (#truestory)The Most Insidious Desire- crushing Mistake you can EVER make (this is what makes you click away from offers that you thought you were kinda sold on)Psychology of Bewitching Guarantees: The secret to structuring & wording guarantees that alleviate buying fears, strengthen people's trust and makes your offer instantly more compellingThe Strategic Difference between "Hard" and "Soft" Calls to Action… and when to use each one to maximize conversions and referrals! (Implement this right away, and you'll start generating sales and profits almost immediately!)The One Simple (but often overlooked) Tweak can Immediately Boost Your Opt-in page Conversions by 5-25%… without changing your offer at all! 60 Second Hook Makeover: 7 Step Checklist for Your Most Tantalizing Hook60 Second Sales Page Makeover: 21 Step Checklist for Your Most Compelling Sales Page EVER60 Second Opt-in Page Makeover: 10 Step Checklist for Your Highest Converting Opt-in Page EVEROnline Persuasion Mastery Stream Three: Persuasive One-to-Many PresentationsThis stream covers every single neuro-tactic you need in your arsenal if you are selling in one-to-many settings. Webinars, livestreams, videos, interviews, speaking from the stage, podcasts…any situation where you are trying to make a personal connection with each individual in a crowd and make them feel understood. 15 Brain Grabbers to Use in Every Live Presentation So people can not switch away even when their subconscious tells them they could watch it later21 Attention-Snapping Ice Breakers to Use in Your Next Live Presentation for Immediate RapportBrain Arousing Power Introductions to use if you want people to hang on to every words you say and give you celebrity status even if you are selling an unproven product with no track record or testimonials.4 Counter-intuitive Price Pitch Secrets to Use in Your Next One-to-Many Sales PresentationThe Webinar Re-enforcement Sequence to Maximize Live Attendance for Your Webinar or LivestreamEyes. Hands. Ears Hacks to Get 100% of Your Live Viewers 100% Engaged with You5 Psych-charged Video Openers that Claw through People's 'wall of indifference' (Do this right and people cannot resist watching the video until the very end because their brains won't let them click away)Lucrative Livestreams: How to structure a FB/IG Live for maximum engagement and automatic cash infusions with less than 10 minute prep timeStanding O to Rolling Dough: How to Structure Your Talk for Maximum Impact AND Moolah11 Room Takeover Secrets to Guarantee You Have Everyone in the Room 100% Engaged with Your TalkThe Simplest Ever Dopamine Hack to Transform Drab and Boring Offers into Riveting 'gotta-possess-stuff-of- dreams'. (This one thing has made the 12% conversion rate on webinars my 'new normal')Online Persuasion Mastery Stream Four: Persuasive Social Media + AdsThis stream covers everything social; ads, videos, posts and everything in-between. We will be looking at platform specific strategies but also human motivations & desires in a social setting. Everything from leveraging the meme culture to adding stickiness to your content is covered.How to Add Viral Engagement Hooks in your Webinars, Videos, Podcasts & Other Content to Make Sure People Can't Help but Spread the Word (even those who hate you will be forced too comply)Be a Dopamine Dealer: How to Get HaHas, OMGs and LOLs on Your Posts Even When You Have the Personality of a Puffer FishThe Single Most Potent Emotion to Focus on When Posting on Social and How to Use it to Get People to Throw Money at YouThe Anti-you Formula For Writing Ads, Sales Page Openers and Video Bumpers that Make You Stand Out Like a Neon Flamingo in the NewsfeedHow to Build Coils of Charm around your social media content and ads so that people can not scroll past it without engaging with it in some wayAlgorithm's Favorite Child: The most favoured social media metric & 10 sneaky ways to incorporate it in your social media posts & ads5 Star Review Mania: The secret process to getting your first 100 reviews on your podcast, book etc. even if you are brand new and a tiny audienceThe Pay it Forward Secret to getting the word out about your new book, podcast, Youtube showThe Sticky Secret Used by Popular Memes that Gets People Instantly Glued to Your Content no Matter How Busy, Distracted or Frenzied They are.Simple—Sometimes Even Illogical—Brain Grabbers that almost always give you a 200-400% boost in your social media engagement. 13 Types of Sticky Images to use in your ads that latch on to peoples' psychology and forces them to freeze the scroll and check out what you have to sayThe Ultimate Guide to Creating Emotion-Arousing Retargeting Ads that Propel People into Action ImmediatelyUnderstanding & Playing The Facebook AlgorithmUnderstanding & Playing The Instagram AlgorithmUnderstanding & Playing The Youtube AlgorithmUnderstanding & Playing The LinkedIn AlgorithmUnderstanding & Playing The Pinterest AlgorithmThe Praise Prize Method to use the power of flattery in your business (science tells us that this is by far the best way to win over people & get them to rally with you)Online Persuasion Mastery Stream Five: Persuasive EmailsEmails are still the most profitable marketing medium and this stream covers psychological principals that go into using email as a tool to connect and bond with people but also turn them into buyers. There are specific email templates for your to swipe and use in your own marketing campaigns.Your First 1,000 Subscribers: Bushra Approved List-building Tactics that Get Subscribers AND Sales7 Non-Negotiables to Include in Your Welcome Email For Quickly Moving People from Subscriber to BuyerA 5 Day Seduction Sequence to Adopt in Your Emails that Can Help You Create Such an Intense Desire to Buy that You will Have an Inbox Full of Agitated Impatient Super Fans Even Before You Open the Cart.3 Affinity Activation Angles to Use in Your Next Email to Get Even Your Most Skeptical and Hostile Prospects to Connect with You at a Deep Emotional Level.An Almost Voodoo Like Story Formula that is Guaranteed to Win You an Almost Rabid Loyalty from Your Audience (it banks on a universal yearning that not a single soul on this earth is immune to)A Scientifically Proven Way (recently discovered by neurologists) to Transform Your Hate Mail into Endless Fodder for Ads, Emails, Videos etc.11 Seductive Email Openers to Use in Your Next Email for Automatic Opens, Clicks & BuysAnatomy of a Super Persuasive Sales Email: The What, The How, The WTFUnderstanding & Playing The Gmail AlgorithmLoyalty Activator Welcome Sequence that Builds Brand Likeability, Creates Trust & Produces an Insatiable Hunger for Your Offers'From Me with Love' Email to Build Life-long Bond with Your Subscribers'Email From' Persuasion Makeover Checklist'Email Subject line' Persuasion Makeover Checklist'Email Tone & Voice' Persuasion Makeover ChecklistSeductive Storytelling in Emails- The Definitive GuideTease. Please. Squeeze: The Secret to Writing Curiosity Inducing EmailsThe Art of the WC Email — How focusing on this little addressed but powerful emotional trigger can not only skyrocket email open rates, but also build a unique 'intimate' bond with your subscribers (one that will instantly double your results)Online Persuasion Mastery Stream Six: Persuasive LaunchesMost launches fail because they don't tap into human emotion and even when they do, they fail to offer logic rationalizations to deal the deal. This stream covers all emotional triggers that go into creating sold out launches but also offers logic and price rationalization tactics to make sure no sale is left behind.6 Bushra-Approved Launch Structures that Anyone in any Market Can Use for Outrageous ResultsUrgency Enhancers: The Ultimate Guide to Creating Urgency in Your Launch (not just through limited time & quantity)ROI Maximization Secrets: Psychological Secrets for Maximizing your Return on Investment With Your Launch15 Psych-Approved Launch Hacks to Double, Triple, Quadruple the Result of Your Next Launch3 Types of Lust Loop Bonuses to include in your offers if you want to catch people in a lust loop and have them trip over their own two feet trying to give you their moneyA Dumbed-down Persuasion Secret from Bestselling Books that No Human Can Resist, Even When Their Rational Brain is SCREAMING at Them That it Cannot Possibly be True.Online Persuasion Mastery Stream Seven: Persuasive BloggingThis stream covers persuasive blogging in a way you have never seen before. It tackles writing techniques that allow for better readability but also goes into psychological tactics that encourage sharing & vitality.Here are a few cheat codes covered under this stream.Visual Writing Secrets: The Definitive Guide to Creating Word Pictures in Your Blogs7 Ways to Add Eyeball Glue to Your Writing So People Keep Reading and Reading and Reading…Google's Favorite Blog: The Hybrid Brain Secrets to Becoming a Google FavoriteThe Psychology of Viral: How to Write Blog Posts that Gets Shared EverywhereThe Ultimate Blog Template: How to Structure Your Blog Post for Maximum Impact11 Snap Openers for Your Blog Posts that Get Immediate Attention and Keep People Reading On7 Sub-Head Formulas to Entice Scanners and Hook Them to Your Blog PostThe Definitive Guide to Get Published in Major Publications as a Guest BloggerLights, Camera, Personality: How to Add Personality to Your Blog Posts No Matter How Dry Your Subject Matter isUnderstanding & Playing The Google AlgorithmMeet The Sisterhood of Disappearing Bonuses Yep, every day one of these bonuses will disappear so if you want them all, don't wait……Hook with Humor Masterclass- VALUE $499How to Use Humor to Hook BRAINS, Sell MORE & Create lifelong FANS (even if you have the personality of a sand flea)Word Domination Masterclass- VALUE $499Take your Words From Dull, Tiresome, Yawn-fests to Spunky, Unignorable Joy-fests Using Brain Science, Creative Storytelling & Blah-Proof Word MagicThe Ultimate No-Buster Game Plan- VALUE $499The Most Comprehensive List of Yes blockers that Make People Hesitate at the Finish Line, and a Playbook for Demolishing all Yes Blockers Without Smudging Your Lip Gloss. (Includes actual phrases, words, pauses and voice inflections to use for maximum impact)Calling The Shots Sales Call Training- VALUE $499The Most Fun, Least Sleazy & Persuasion-Charged Sales Script to Use When Selling Over Phone. My Clients & Coaches Use THis System to Close 80%+ of All Sales Calls They Get On.Every single week for ten full weeks, you will get a chance to offer yourself up for a persuasion teardown (not YOU silly, your stuff)You can share your offer and I will tear it down & build it back up to be a super-persuasive, wallet-snatching, drool-inducing offerYou can share your sales page and I will tear it down & build it back up to be a cash-pumping, OMG-generating, madness-creating page.You can share your ads and I will tear them down down & build them back up to be a scroll-freezing, hype-creating, sale-getting magnet.You can share your webinar pitch and I will tear it down & build it back up to be a revenue-pumping, mania-inducing, high converting cash engine.This madness continues for TEN WHOLE WEEKS. And No, I don't Just Use My Persuasion Powers For My Own Selfish Motives (well a little) Here's just what some people have to say about my teachings & strategies7 Day Steal My Stuff Guarantee TrifectaFirst, if you do not like my face, my weird accent or my poop jokes…I will be happy to refundSecond, if you do not find this to be the most is the absolute best product you have ever witnessed, used or even heard about, I will be happy to refundThird, if you don't at the very least go from the loud chirping sound of crickets to rolling in likes, comments, shares and dough, I will be happy to refundWhatever your reason may be, if you are not losing your freaking mind over the awesomeness I have packaged in Online Persuasion Mastery and you let me know within seven days after the kickoff, I will be happy to refund…no questions asked!You Did Everything as They Told You to, Why Isn't it Panning Out Then? Why aren't you rolling in dough or sky diving from a skyscraper made of dollar bills?What they tell you:You lack personal initiative, responsibility, discipline, application of information.What the raw bitter truth is:It has nothing to do with any of that. It has to do with flaws in the way everybody has been told to do it up until now. It has to do with incomplete, inaccurate, impractical, hogwash information that's not suited to persuade humans in the internet era. … and so if you are tired of learning, preparing, waiting, maybe procrastinating and ready to really get ahead financially, I'm ready to take you under my wing.It's Not Every Day that a Millionaire Master Persuader Knocks on Your Door and Offers to Take You Under their Wing and Reveal their Secret Formula to You. It's Up to You Now What You Do With This Chance Today…Why be "just another copywriter" when you should be a Master Persuader?Why be "just another virtual assistant" when you should be a Master Persuader?Why be "just another business coach" when you should be a Master Persuader?Why be "just another funnel strategist" when you should be a Master Persuader?Why be "just another digital marketer" when you should be a Master Persuader?Why be "just another online business owner" when you should be a Master Persuader?Why be "just another sales coach" when you should be a Master Persuader?SeriouslyWhy?The Revolutionary New System to Outsmart the Algorithmic Brain, Outcharm the Emotional Brain and Outwit the Logical BrainYou missed the industrial revolutionYou missed the internet revolutionYou can not afford to miss The Hybrid Brain RevolutionJust One Cheat Code will hit you like a brain cleanse, that will flush out all the bullcrap advice you have been collecting there about selling, persuasion, marketing, and business. Like all cleanses, you will be left feeling lighter, smarter and with a brand new scientific way of looking at things.Not to mention you will be magnificently glowy.Implement the code in less than 10 minutes a day and provoke an impulsive, effortless YES and double, triple, quadruple your sales, conversions & impact within 24 hours.Without you trying to change your DNA to that of a fire-breathing, deal-closing, ball-busting super salesman Without signing up for another new pricey tech toolWithout adding more unmentionables to your to-do listWithout doubling your advertising budgetWithout sacrificing your sanity, your ethics or your dignityWithout pressuring your team to think and act in ways they find mildly nauseating Look, I'm on a mission — I want you in the Online Persuasion Mastery System to fully test and help me optimize the system. I'm racing the clock. I don't have time to fool around. That's why I've made such an astonishing offer, provided such a mountain of valuable gifts AND 'industrial strength' no questions-asked guarantee. This price however comes at the condition that you will share your feedback on the system as well as your before/afters with me so that I can use it to optimize & market the system.It's literally the bargain of the century IF you are open to let me play Frankenstein with you for a bit.Ready to Join Online Persuasion Mastery?Here's Everything Included…Lifetime Access to Online Persuasion Mastery: Internet's Largest Database of Online Persuasion Tactics & Cheat Codes that Outsmart the Algorithmic Brain, Outcharm the Emotional Brain and Outwit the Logical Brain – VALUE $1,999Instant Access to The Hybrid Brain Revolution-Prep Course- VALUE $299Disappearing Bonus: Hook with Humor Masterclass- VALUE $499Disappearing Bonus: Word Domination Masterclass VALUE $499Disappearing Bonus: The Ultimate No-Buster Game plan VALUE $499Disappearing Bonus: Calling The Shots Sales Call Training VALUE $499Access to 10 Weeks of Live Persuasion Tear-downs & Critique- VALUE $999Access to Persuasion Posse Facebook Group- VALUE $499Total Value of Online Persuasion Mastery- $5,792You Can Join For Much (MUCH) Lower Price Right NowCrash Test Dummy Annual PlanOne Payment of $1997Crash Test Dummy Monthly Plan12 Payments of $197
Immediately after you paid:
1.- You will receive an email to get your download link
2.- This is an example of the text file you will get
3.- You copy and paste this link on your browser, and now you can download all the courses as a ZIP file.
FAQ Your Most Popular Questions, Answered:
FAQ Your Most Popular Questions, Answered:
How and when will I receive the product?
Immediately after the payment, you will get a Mega.nz link to download the product (like a google drive folder). The link will be sent to your email account immediately, and you can always get the link on your account history too.
Is the course complete, or is it just a demo version?
The course is 100% completed and updated (includes ALL videos, pdfs, files, screenshots, everything); after you pay, you get a link to download the course Immediately.
What is your refund policy?
We will send you a full refund if you don't get the complete course you ordered and we can't solve the problem in the following 24 hours. Please get in touch with us if you want a refund. Your refund request will be processed within 24 hours
How can I trust you?
We show screenshots from the course, give you a video sample, and show you the folder where you will get access to download the course; that is proof that we have the course.
Also, you don't need to trust us; you will be protected by PayPal buyer protection; if we don't send you the course, you can ask Paypal to give your money back
Which types of payment do you accept?
Paypal and Crypto coins
We've partnered with PayPal to handle billing and provide a secure socket layer, and 256-bit encryption. So in layman's terms: Your credit card is secure.
Card information is stored ONLY by Paypal secure server (We never have access to your payment information)
Is my personal information secure?
Yes.
All registration information is automatically encrypted and anonymous, so it's safe.
We don't even use your name on our testimonials.
You can even use fake info; we don't need your real name. We understand you want to protect your privacy.
What if my product has problems?
If your course has a problem, please send us a screenshot and tell us the problem. Then, we will solve the problem.
We will send a full refund when the problem can't be resolved.
Can I ​Request courses I found somewhere?
Yes, send the information from the course you want to our chat or email at [email protected]
​Are all of the ​courses available straight away, or is it time-released (drip fed)?
You get all the content immediately; You don't have to wait.
How can I get support from you?
We are confident provide for all of you an excellent service. If you have any problems, please contact us via Live chat. If we are not online, send us an email at [email protected] We will solve the problem quickly as possible!
What is NOT included?
Facebook Group Access
Support from the course creators
Mastermind or calls.
Do I need to purchase anything else once I get this course?
NO, you don't need to get a premium subscription or download torrent software.
How long do I have access to the course?
Forever. You bought the course, and you own it for life. Access it anytime you want. You'll also get all the course updates and new lessons for FREE forever.
Is my credit card secure?
Yes. We've partnered with PayPal to handle billing and provide a secure socket layer, and 256-bit encryption. So in layman's terms: Your credit card is secure.
Card information is stored ONLY by Paypal secure server (We never have access to your payment information)
YOU CAN BE 100% SURE YOU WILL GET THE COURSE.
You don't even need to trust Us. The Paypal Buyer Protection Policy will protect you.