Growth Training Self-Serve by Demandcurve
Instant Download Guaranteed:
The course is 100% completed and updated (includes ALL videos, pdfs, files, screenshots, everything); YouImmediately get a link to download the course after you pay.
Read the FAQ for more info.
Sales Page:
http://archive.is/Wnh5W

Screenshots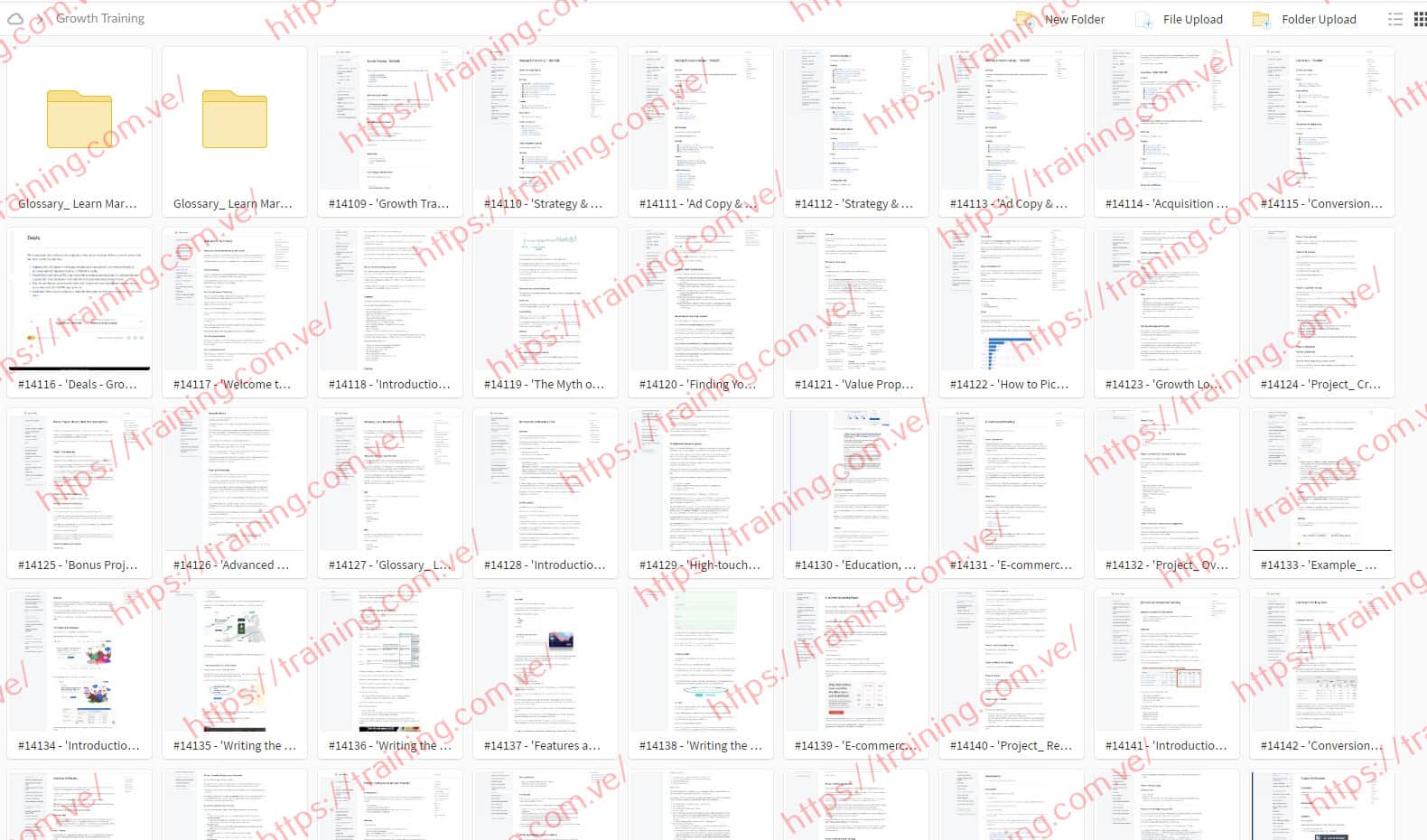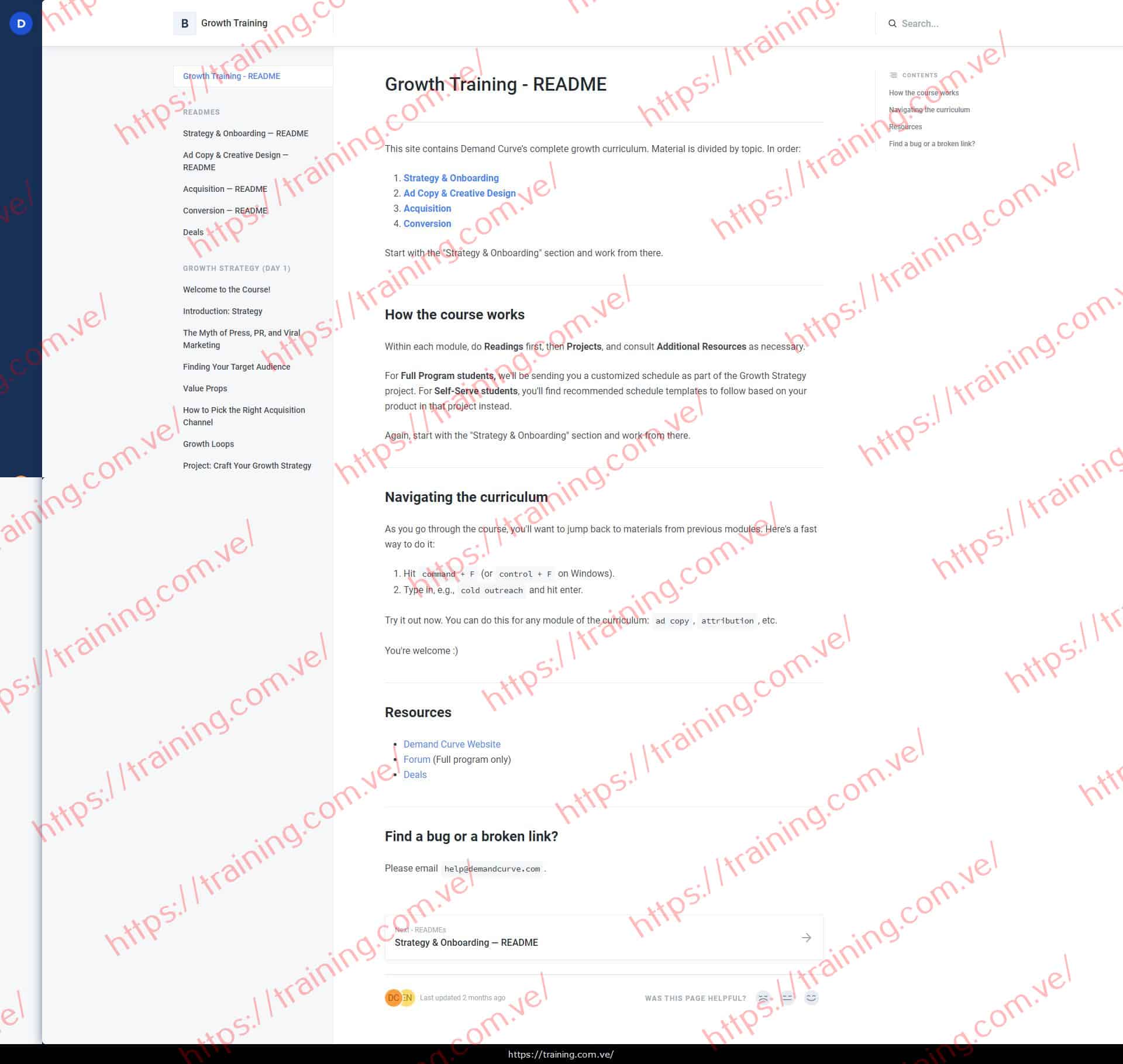 Sales Page Text
Get your free access to Day 1 of Growth Training →New batch of free Growth Masterclasses. Enroll now →New Year Offer: 15% off all programs. Valid through 1/31. →Learn to grow your company faster.We teach you the strategies used by leading growth teams. You'll learn to run growth yourself, and — with our feedback — you'll see quick growth results like you'd expect from an agency.Request More InfoWatch the videoTrusted by 100's of entrepreneurs, startups, and small businesses.How the Program WorksWe train your team in growth and we provide tailored, step-by-step instructions for growing your specific business model. And if you opt for our Full Program, we'll give you feedback on your entire growth setup — from your strategy, ads, landing pages, and more.CurriculumWe've built the best-reviewed, most in-depth growth course. Based on real-world learnings from growing hundreds of companies.FeedbackFull program only Our team reviews your growth work, provides feedback on your ads, landing pages, and more — and helps improve your growth strategy.TailoredThe curriculum guides you through the learning tracks needed for your goals.Watch moreRemoteThe course can be taken from anywhere. And it's self-paced.1Learn efficient ways to acquire B2C, B2B, mobile, and local customers.2Run ads on all major channels—using effective, 2020 techniques.3Track how site visitors behave, and learn how to act on that data.4Make top-tier ads that people click for the right reasons.5Write, build, and test landing pages that convert better.6Master the tools of the trade: Hotjar, Google Analytics, and more.7Create a high-converting onboarding experience.8Leverage content marketing and SEO to generate revenue—not just traffic.9Master B2B outreach tactics: how to scrape, email, and convert leads.10Design a referral program that users actually want to use.'The Demand Curve team knows paid acquisition, conversion, landing pages, and a lot more very well. If you're lagging behind on your growth skills, let them teach you what you're missing.'Alex KracovHead of Marketing, Lattice"Demand Curve has trained many YC company founders and employees — and are a course we regularly recommend. Growth marketing expertise is a critical component of startup success.Gustaf AlströmerPartner, Y CombinatorDemand Curve vs. An AgencyAs shown below, our program is more cost-effective than a marketing agency, and we deliver results quicker than a full-time marketing hire.Agency or Full-Time HireCost$999 — $5,800$100k+ per yearTime Until Results2-3 weeks3-5 months to find and onboard the right hire. And most agencies don't deliver results for a few months.RiskWe've helped 100's of companies grow. Our inside knowledge of what works helps remove the risk of you choosing the wrong growth strategy.Agencies and hires are an expensive gamble. Agencies push contracts without guaranteeing success. And a bad hire sets you back half a year.Time CommitmentOur course is self-paced. You decide how much time to invest based on your objectives.Working with an agency requires weeks of onboarding. Hiring and onboarding a new employee can be a full-time job.'Working with Demand Curve was a game changer — the global team has gotten enormous value out of the work they've done with us. They've revamped how we think about lead generation via email and ads, and taught us a new rhythm around approaching and nurturing customers.'Masha ReutovskiSenior Marketing Manager, MicrosoftRather hire a marketing agency?We've built a network of the top marketing agencies and consultants. We'll help match you with the best one for your company's needs.Find an Agency →Some of what you learnOur curriculum contains in-depth teachings plus tactical steps for applying the new knowledge immediately. Meaning, you not only learn but you self-apply learnings to grow (with our help) in real-time.Customer AcquisitionWe'll help you launch and scale channels best suited for your company. You'll learn advanced tactics for channels including:Facebook/Instagram, Google, LinkedIn ads, Pinterest Ads, Snapchat Ads, YouTube, Quora, and othersB2B leadgen and cold outreachContent marketing and SEOWe train SaaS companies, e-commerce startups, mobile apps, games, and service businesses.Growth StrategyOur team breaks down your growth goals, business model, product(s), and target markets to develop a growth strategy tailored to your company.We'll help you identify your ideal growth channels, how to better define and reach your target audience, and how to craft the right messaging to convey your value.You'll save months of trial and error by leveraging proven growth strategies we've used for companies similar to yours.Analytics & TrackingWe help you set up conversion tracking and analytics. More importantly, we help you identify and measure the metrics most critical to your company.Step one is understanding what's worth measuring. Step two is measuring it properly.ExperimentationGrowth happens when your team takes a scientific approach to identifying and testing the highest-impact projects.We teach you these processes so you can continue driving growth far after Demand Curve.Landing PagesLow-quality landing pages result in wasted advertising efforts and missed revenue potential. We give you a step-by-step process for writing and designing high-converting websites.We'll show you the best-converting landing pages we've ever seen.User OnboardingA good user onboarding experience is one of the most critical parts of your funnel. Yet, it is one of the most neglected.We'll help you design an onboarding experience that helps users discover the core value of your product — turning them into engaged customers.See full syllabus →You're learning from the bestWe're Demand Curve. We train the fastest-growing startups in advanced growth marketing. We source our learnings from our agency and from our large marketing community. We also run growth talks for TechCrunch Disrupt and Y Combinator.We write TechCrunch's monthly growth marketing column.Read the ColumnDemand Curve is a Y Combinator-funded company. 35% of the companies we train are YC alumni.We've spent $200,000,000+ on Facebook and Instagram ads.We teach the pros.We give growth talks at Google, StartX, Village Global, and Y Combinator.$200M+Revenue Produced200+Companies TrainedDemand Curve's marketing guide is a top 3 all-time book on Product Hunt.Read the GuideDemand Curve founder Julian Shapiro is interviewed on the Indie Hackers podcast.Hear the PodcastPricingFlexible pricing designed for all companies and individuals.Self-Serve$999For those wanting to take a DIY approach to growth. Get access to our world-class curriculum and apply our teachings, projects, and tactical advice without our feedback and mentorship.Watch the videoRequest More InfoPurchase NowRecommendedFull Program$5,800Our flagship program. Get hands-on feedback from our team. We help you create and optimize your growth strategy, acquisition channels, landing pages, ads, and every other asset you build in our course.Watch the videoRequest More InfoPurchase NowEnterpriseContact usIf you have 10+ employees going through the program, contact us to learn about discounted pricing options and enterprise features.Watch the videoContact UsAccess the growth course for 3 monthsOngoing curriculum updatesGuaranteed access to our pro Slack group for founders and marketersEverything in Self-Serve plus…Access the growth course for 6 monthsDirect access to our team of growth expertsUnlimited reviews of all marketing channels and assets you create during the programOption for ongoing mentorship after you finish the programDiscount pricing for teamsEverything in Full Program plus…A dedicated growth advisorCustom training modulesWant to see the first day of training?Get the first day of the course for free. Instantly.Get Day 1→Program ReviewsWorking with Demand Curve was a game changer — the global team has gotten enormous value out of the work they've done with us. They've revamped how we think about lead generation via email and ads, and taught us a new rhythm around approaching and nurturing customers.Masha ReutovskiSr. Marketing Manager, MicrosoftThis is the team you want to learn growth from. They know every channel and every tactic. And they know how to scale efficiently.Elie SchoppikFounder, Rithm SchoolYou learn the tactics Bell Curve uses to grow their clients. When I wrote the growth book, Traction, I hoped someone would build a course like this.Justin MaresFounder, Perfect KetoI've learned so much as a new marketer that probably would have taken at least a few months and considerable stress. The confidence boost I have now when running campaigns and publishing projects is unparalleled.Brent JensenGrowth, HoppierThese are the people we go to for growth advice. They pointed out what we needed to change in our Facebook/Instagram strategy and landing pages — and it made the difference.Brian KrallLead Developer, Tovala, YC W16I'm a junior marketer at a startup preparing to aggressively begin paid acquisition. I knew enough growth to be useful, but I needed to know more to be very effective with ads.Demand Curve provided the hands-on feedback and walkthrough references needed to level up to senior-level skills.Max OrshanGrowth Strategist, RhinoThe Demand Curve team knows paid acquisition, conversion, landing pages, and a lot more very well. If you're lagging behind on your growth skills, let them teach you what you're missing.Alex KracovHead of Marketing, LatticeThe Demand Curve course might be the most valuable thing I've done for my career. They really helped me develop a growth mindset. The course allows you to tailor your experience to serve the needs of your business, and every project you do contributes to growth in a direct way. Best of all, you're able to get honest, in the moment feedback from instructors.Candace KimMarketing, Scanwell, YC S18We landed two big meetings using their cold outreach strategy — while we were still in the course.Wayne AndersonCo-Founder, Smart Alto, YC W17Early-Stage StartupsSolo FoundersSmall BusinessesEnterprisesMeet the teamJulian ShapiroCo-FounderJulian is one of the best-known thought leaders in growth marketing. He writes TechCrunch's monthly marketing column, wrote the web's most popular guide to growth at Julian.com, and appears on major tech podcasts including Mixergy and Indie Hackers.Prior to Demand Curve, Julian was the VP of Marketing for Webflow, and ran marketing for both Heap Analytics and Clearbit.Neal O'GradyCo-FounderNeal co-founded the award-winning growth marketing agency, Bell Curve. His ad optimization software has been used to oversee $250mm in ad spend.He's also a web design author, whose writing has appeared on David Walsh, Creative Market, Creative Bloq, and .net Magazine.Justin SetzerCo-FounderJustin was one of the early members of Grammarly's growth team — where he managed $50mm in ad spend and led the conversion team, helping grow Grammarly to tens of millions of users.Justin is also the Director of Growth at Bell Curve, the renowned Silicon Valley marketing agency.Aviva WolpertInstructorEric NguyenInstructorAadil RazviGrowth MarketerReady to learn from the industry's best?Explore our programs and find the one suited for your goals.Request More InfoFAQI'm in a different time zone than the United States — can I still take the course?Yes, absolutely. The course can be taken from anywhere in the world.How is this better than other growth courses?A few ways:1. Other growth training programs are designed for very senior growth practitioners and late-stage companies.‍These programs are fantastic for those looking to learn advanced theory and high-level skills like team building and growth modeling. Our course is designed for those looking for actionable strategies and tactics that can be applied immediately to begin growing their businesses.2. Other courses only focus on 1-2 channels.If you're just looking to learn how to run Facebook ads, then there are cheaper options out there. Our course goes much deeper. We teach you how to develop a growth strategy, build and manage growth channels (ads, content/SEO, cold outreach, etc.), design landing pages, optimize your conversion rates, and much more.3. Other programs are lecture-based, with very little actual application.We're primarily hands-on projects. We give you the necessary knowledge, but more importantly, we've designed projects to help you apply those learnings directly to your business.4. Other programs don't offer mentorship, feedback, and support.With the Full Program, you get 1-on-1 mentorship and tactical feedback from our team. You can also ask our instructors questions on our forum at any time. Plus, you'll join a community of founders and companies working to help each other grow.How is this worth the price?Quite frankly, because it works. You'll acquire the skills that 100's of companies have used to produce hundreds of thousands and even millions in incremental revenue. We strongly believe (and have data to prove) that the program is one of the highest-ROI investments a company can make.Who on my team should go through the program?Our program is a fit for anyone who needs to learn the step-by-step tools to acquire new customers: primarily founders/business owners, junior marketing hires, employees of early-stage startups, and even senior marketers who come from a different area of expertise and/or want a refresher on the latest channels and tactics.How personalized is the training?All of the plan types have elements of personalization. With the Full Program, you have access to growth advisors who will work with you to build a custom growth strategy, review and provide feedback on your work, and give strategic recommendations. For those on the Self-Serve plan, you won't have access to a growth advisor, but the curriculum is designed to guide you down the tracks most relevant to your business to ensure you're focused on the highest-ROI strategies, channels, and tactics.What will I be capable of doing after the training?Finding new ways to get customers for your business.Intelligently validating startup ideas.Finding the email addresses of your ideal customer.Writing cold emails that compel people to respond.Writing content that gets you customers, not just readers.Making ads that people click. For the right reasons.Sourcing high-quality content writers.Setting up referral programs that people actually use.Writing, building, and testing modern landing pages.Running ads on all the major channels, with real best practices from the industry.Tracking everything your visitors do on your site.Creating a high-converting onboarding experience.What if I want more mentorship and feedback?Full Program students can purchase additional rounds of feedback on an ad hoc basis. This can be done during and after you take the course.How does it actually work day-to-day?Here's the daily cycle:There's one or two hours of reading beforehand. (Say, if you're learning to write landing page copy, there are readings on how to write a good landing page.)Then you start the project itself. This generally takes two to four hours. (Keeping with our landing page example, you'd actually be writing copy in a Dropbox Paper doc.)While you do the project and readings, you're in our WikiForum asking our instructors questions about tricky concepts and places you get stuck.Then, you'll submit the project through Zendesk for our feedback.An instructor will give you feedback. (Keeping with the landing page example, they'll be leaving comments on the side, saying things like, "You missed this value prop" and "Make this copy punchier by doing X.")You'll make their changes and submit a new revision.We do this as many times as it takes to get to "agency-level" quality. (What we would approve as a deliverable on our agency side.)Other example project days include:Ad copy (you work in dropbox paper with comments)Facebook and Instagram ads (you work in the ads manager, actually make ads, and give us access to it)Ad creatives (this is in Sketch)Conversion rate optimization project (you'll be working in google sheets, GA, and mixpanel)Note: For Self-Serve, you'll have access to the exact same curriculum and projects as in the Full Program, but you'll be working through it without our mentorship and project reviews.How long will it take for me to finish the Full Program?With the Full Program, you can take up to six months to go through the material and spend as little as an hour a day — and still finish the material. Many students go this route. We know things inevitably pop up for startups: product changes, fundraising, ops problems, and so forth.That being said, the program is structured so that you could finish the work in 4 weeks if you devoted about half a workday (4-5 hours per day). It's pretty intense — but it produces wins faster if you desperately need to grow.But, ultimately, your schedule is up to you.I'm trying to up my skills, is the course right for me?We think of "skills" as knowing all the tools that actually lead to customers in a way that is profitable and that can scale.Specifically, our program is designed to help you set up and optimize the two or three acquisition channels most likely to work for your type of business: that means you work on everything from copywriting to landing page design, conversion tracking, ad setup, and A/B testing.How do I pitch this to my boss to have this paid for?Most teams/individuals justify the cost as an investment in growth; the goal is that you've profitably made more from the customers you get so that the course pays for itself.How much should I budget for advertising spend, outside of the program?Ads don't apply to all businesses, and some startups don't have the budget to test ads. We figure this out with you in the strategy work you do your first day.That being said, if ads are part of your strategy, you'll want to set aside $3-5K USD. Anything less than that and you won't get reliable data on whether people will convert through ads.Want to see the course?
Immediately after you paid:
1.- You will receive an email to get your download link
2.- This is an example of the text file you will get
3.- You copy and paste this link on your browser, and now you can download all the courses as a ZIP file.
FAQ Your Most Popular Questions, Answered:
FAQ Your Most Popular Questions, Answered:
How and when will I receive the product?
Immediately after the payment, you will get a Mega.nz link to download the product (like a google drive folder). The link will be sent to your email account immediately, and you can always get the link on your account history too.
Is the course complete, or is it just a demo version?
The course is 100% completed and updated (includes ALL videos, pdfs, files, screenshots, everything); after you pay, you get a link to download the course Immediately.
What is your refund policy?
We will send you a full refund if you don't get the complete course you ordered and we can't solve the problem in the following 24 hours. Please get in touch with us if you want a refund. Your refund request will be processed within 24 hours
How can I trust you?
We show screenshots from the course, give you a video sample, and show you the folder where you will get access to download the course; that is proof that we have the course.
Also, you don't need to trust us; you will be protected by PayPal buyer protection; if we don't send you the course, you can ask Paypal to give your money back
Which types of payment do you accept?
Paypal and Crypto coins
We've partnered with PayPal to handle billing and provide a secure socket layer, and 256-bit encryption. So in layman's terms: Your credit card is secure.
Card information is stored ONLY by Paypal secure server (We never have access to your payment information)
Is my personal information secure?
Yes.
All registration information is automatically encrypted and anonymous, so it's safe.
We don't even use your name on our testimonials.
You can even use fake info; we don't need your real name. We understand you want to protect your privacy.
What if my product has problems?
If your course has a problem, please send us a screenshot and tell us the problem. Then, we will solve the problem.
We will send a full refund when the problem can't be resolved.
Can I ​Request courses I found somewhere?
Yes, send the information from the course you want to our chat or email at [email protected]
​Are all of the ​courses available straight away, or is it time-released (drip fed)?
You get all the content immediately; You don't have to wait.
How can I get support from you?
We are confident provide for all of you an excellent service. If you have any problems, please contact us via Live chat. If we are not online, send us an email at [email protected] We will solve the problem quickly as possible!
What is NOT included?
Facebook Group Access
Support from the course creators
Mastermind or calls.
Do I need to purchase anything else once I get this course?
NO, you don't need to get a premium subscription or download torrent software.
How long do I have access to the course?
Forever. You bought the course, and you own it for life. Access it anytime you want. You'll also get all the course updates and new lessons for FREE forever.
Is my credit card secure?
Yes. We've partnered with PayPal to handle billing and provide a secure socket layer, and 256-bit encryption. So in layman's terms: Your credit card is secure.
Card information is stored ONLY by Paypal secure server (We never have access to your payment information)
YOU CAN BE 100% SURE YOU WILL GET THE COURSE.
You don't even need to trust Us. The Paypal Buyer Protection Policy will protect you.